Key Events - Fitting the engine
Key Events - Fitting the Engine:
<10th January 2006>
So the engine is now ready to fit!
I have borrowed an engine hoist from a neighbor and so the first thing i need to do is clear some space and get the car back onto its wheels to roll it right to the back of the garage to allow the hoist / engine / and gearbox to fit in front of it. I have heard that the best approach is to have the rear of the car raised higher then the front. To make it as low and therefore easy (i hope) as possible i kept the front of the car on the ground. To make the car more stable i rolled the back wheels onto some ramp stands. This should be much more stable then having just the rear on chassis stands.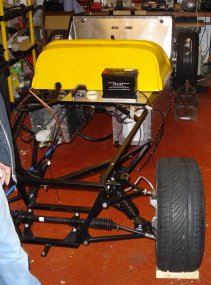 Then once the engine and the gearbox were at the garage i connected the two together. Once together i stood then flat and filled the gearbox with oil. I did this now as i'm not sure how much room there will be once the box is in the car.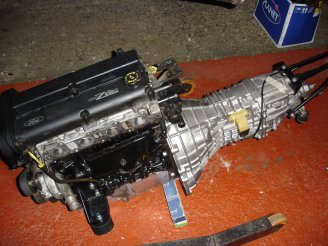 Using some rope as a sling we picked the joined engine and gearbox up with the hoist. Then began to edge the hoist towards the car. Once the gear stick was close to the scuttle top panel we tilted the gearbox downwars. I was surprised at the angle we actually had to tilt it to. This allowed us to edge forward with the gear stick going under the scuttle. At this point you a few pairs of hands, the gearstick must be guided through watching for the loom and pipes as we went. once through we could start the process if leveling off so we could move it further in and up to clear the gearbox chassis mounts.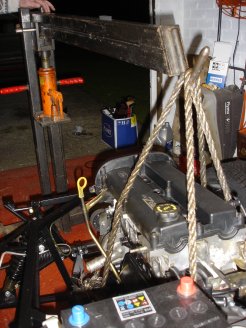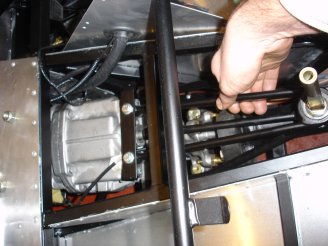 Once it was almost in place i needed to locate the gearbox bolts into the prop shaft. This went in relatively easily but needed to be futher inserted once i could get the car back on the wheels and roll it back and forth slightly. Then a slowly rotating tiightening of the bolts on the prop coupled them nicely.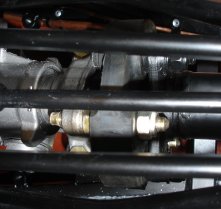 And then it was just a case of tightening up the engine mounts! Here are some pics of the engine in the car