Module 1 - Body Panels
Module 1 Build: <24th August 2005>
Alloy Panels: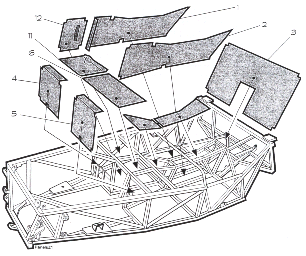 So now for the start of the real work!
I arrived at the garage around 9:30am and got myself settled, made myself a pot noodle and some coffee, then sat down with the build manual to work out the plan. The first thing i did was went through the panels i could recognise and put then into place to check the kind of fit i should expect. This is actaully suprising good and if it didn't seem to fit very well i found it was the wrong panel! So hats off to westfield for that. The first one to put in place is the transmission tunel side panels. They're quite large and a unique shape so picking to right ones was easy. So time to get to work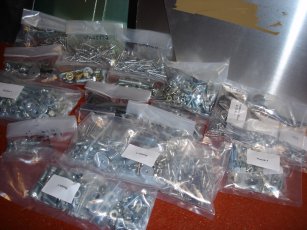 I got my silicon gun loaded with a fresh tube of the silicon Westfield gave me in the kit, then put the drill bit in the drill, then went in search of the pop rivits. This no mean feat as you can see from the picture there are a number of different rivits, bolts, fastenings, etc.. However after much searching i just couldn't find the right rivits! So i called westfield to check that you would normally get them in the kit and they said i should have, gave me some directions of where to look and when they weren't there said they would put some in the post straight away. So after spending a good hour building up the courage to start i was scuppered at the first hurdle!!
| | |
| --- | --- |
| But there was still plenty to do so i got the transmition panel out and attached it to the chassis with a number of 100mm G Clamps, which incidentally, are plenty big enough, the 75mm ones would have been fine for the job. After a number of small adjustments and about half an hour of fine tuning i finally built up the nerve to start drilling the chassis! So using the pre-drilled alloy panel holes as my markers i started to drill. All went very well and despite taking this first panel very slowly i was done in no time. Undoing the G-Clamps and removeing the alloy panel revealed a very neat row of holes through my nice new chassis. After cleaning it down i was ready to move onto the other side. This was very much a case of following the same procedure as the first one but confidence was high and so this side took no time at all. | |