Pre Build
<21st July 2005>
Pre Build Process:
I have placed the order for the SeI Kit plus the Donor kit and all the extras that I wanted to get new. The estimated collection date is in 6 weeks time, so that will give me a chance to sort my garden out and help get my Girlfriends parents garage ready for the job!

Also I have to start looking at how and were to source the extra components. I have contacted a number of specialist firms that provide zetec engines in varying states of tune and they are drastically varying in price. My current decision is whether to go for the pre 1995 I had planned or to go for a new one and get the cat on the exhaust. Think I will mail Westfield and see what extras would be need to fit a new engine and then see what the difference is in price. Should be able to use the MT75 gearbox with either so I will go with that anyway. The problem with the new unit is it would have to adhere to the new emissions regulations and I'm not sure how plausible that is with carbs or throttle bodies. I will post my findings as soon as I have them.

<23rd July 2005>
Build Manual Arrives: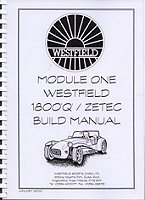 Get a knock at the door from the postman this morning to find him holding a build manual sized package for me!! Opening it revealed the nice hefty build manual along with the receipt for my deposit and the bill for the rest of the kit. It also contained a letter giving me the dimensions of the kit for collection and all importantly informing me the kit will be ready for collection between the 23rd and the 26th August! That's just 4 and a half weeks or 32 days!!!! After checking the invoice for the rest of the kit I had to make a quick call to Westfield as they had the body colour down as black not yellow. So that corrected I signed a copy of the invoice and put it in their pre-paid envelope to post off. Now the fun part I get to read the manual! Initial impressions are that the build manual is in a completely different league to the others I've seen. The detail and professional layout is miles ahead of all the other.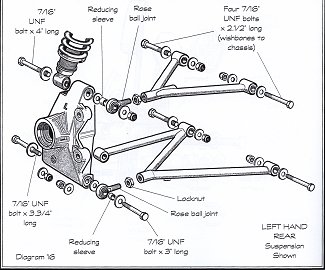 This is just one example of the detailed and incredibly useful and informative diagrams included on every page. So as I start reading I feel a mixture of excitement and fear as you get an indication of the magnitude of the task ahead, reading lines like "failure to do this will result in BRAKE FAILURE", still, at least I've been warned! So I now have a month of train journeys to read and make notes on all 265 pages.



<24th July 2005>
Clearing the Garage: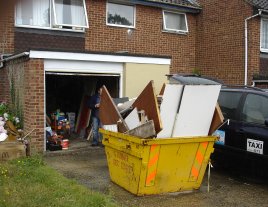 I'm going to be using my girlfriends parents garage for the build and when they first offered it to me it was like every other garage, full to the brim with rubbish!So offering to help clear it seemed like a fair thing to do. However, while I've been busy researching the kits and sorting out the ordering, they've cleared most of it themselves and even managed to sand down, paint and put a new lock on the door! So thanks Keith and Jane! There were a few things that needed to be taken to the dump so i went round today to clear some of the last bits, and this is where my little Westfield will be born and grow up.


<25th July 2005>
Insurance Quote:
I phoned footman Jones insurance brokers this morning to get a quote on the car when its finished. For the 2ltr Zetec kicking out up to 190Bhp and parking it on my driveway it was 270 quid! That's as a second car not using any of my no claims!! That's fully comp with a 100 pound excess and fully European breakdown cover. So now my Civic and the Westfield joint insurance premiums are still less then the Jeep on its own!

<27th July 2005>
Get the Engine:
So i managed to get hold of an engine! After Speaking to Richard and Mark at Westfield it seems the difference between a pre and post 1995 is that you would need a cat (about 250quid) and would have to use throttle bodies rather then carburetors (about 200 quid more). So i figured this is worth doing as i can get a much newer engine with a few less miles on it.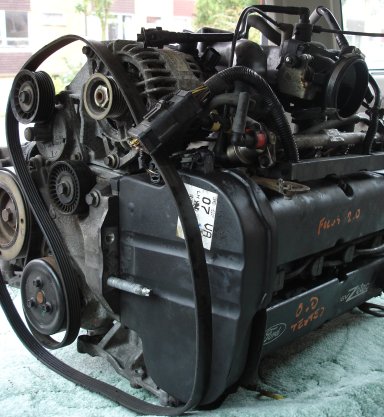 After submitting my request to The Parts Gateway I was contacted within minutes by a number of breakers and one that happens to be about 5 miles from my house had a 2001 Focus with a 2ltr Zetec under the bonnet! Well i say under the bonnet, the car was well and truly written off but the engine bay was mostly untouched and they started it up and it fired first time and ran smoothly and without any knocks or splutters. So i took that and asked for a manual flywheel, clutch, and alternator (Focus had an auto-box). All in it came to just shy of 400 quid which i was very pleased about! For all the detail about the engine click the photo.