Collecting the kit from the Westfield factory
<23rd August 2005> Collection day!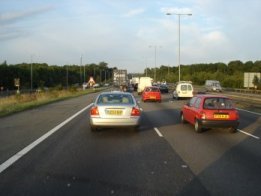 So with my alarm waking me up at 5:30 on the big day i was able to get out on the road at 6am. I'd collected the van the night before from my Dad, who'd kindly arranged in advance to free it up from any deliveries today. It had been raining really heavily the day and night before but today was forcast as sunny so hopes were high for a dry journey (lucky really as the vans an open back). The Journey started well with only the occasional crawl on the M25. Once i hit the M40 it was plain sailing all the way, with one stop for Diesel i was at the Westfield factory by 9am. I parked out front and went in the office, they told me i was expected (always good to hear) and to back the van round by the factory.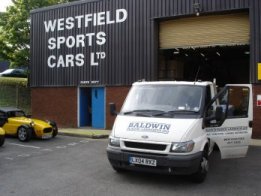 So i was ready to start trying to load and organise everything, and i must admit had a niggle in my mind as to the amount of stuff i would have to fit in! But i had no need to worry as when i got to the factory a man named Gavin was there to help. Well i say help he actually sorted everything out! Everything was really organised and after a brief introduction and an offer of coffee he was wheeling my lovely yellow chassis of to the van. I didn't even have to give them a lift they just loaded it on wrapping everything in some cardboard that they use and some bubble wrap that I'd brought with me.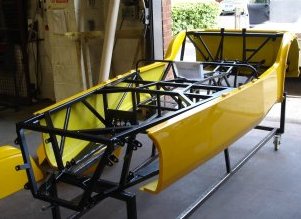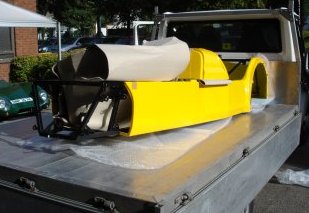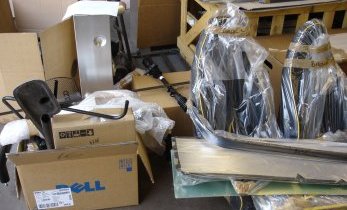 There was also a nice neat pile of parts all labelled up with my name, so i had a good rummage around while they where loading other bits. I was particularly interested in seeing the seats as until then all the seats i'd seen had been plain black and i'd asked for yellow piping on my ones. But after seeing them all my fears were put to rest as they look great! I've also gone for the yellow piping round the carpets so i think it'll break up the interior quite nicely.
After about an hour and half everything was packed on and Gavin took me through a couple of the things they they didn't have in stock and so would be sending to me later. Then it was just time to go and pay! So i went into the office, the lady took me through the warrantee paperwork and then took my debit card for payment, she put it through but they requested a referal. She was gone a while and then came back to say they'd asked a few questions: Who do i share the account with, When did i last change address, and where do i buy books from on the internet!!!! Can't remember the last lime i bought a book but hey! They were happy and i was on my way.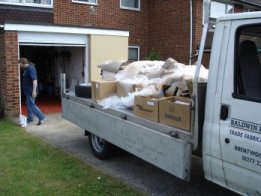 The journey home was a lot slower with a couple of stops just to readjust a couple of things and to tape down some bubble wrap that kept coming loose. But i arrived at my little Westfields new home about 2pm so i made fairly good time still
Unloading was great! It was like all the best christmas's rolled into one. There were probably 8 boxes of varing sizes but all packed with goodies. They all had to be sifted through and the contents organised onto the shelving that Keith had put up for me.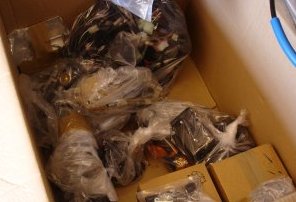 So i worked my way through them all orginising it into pile and boxes, pipes in one box, electricals in another. The biggest pile at the end was the "Not sure what this is for pile" So i'm going to have to go through the build manual and work those out!